Brondell L60-RB
Regular price
$310.00
Sale price
$169.00
Unit price
per
Sale
Sold out
Bidet Options
-- Please Select --
CleanSpa Hand-Held Bidet Sprayer
FreshSpa Easy Bidet Toilet Attachment
SouthSpa Left-Handed Bidet Toilet Attachment
Free Shipping on Orders Over $200

Free Returns & No Restocking Fees for 100 Days

Easy Monthly Installments Starting at 0% APR*
Got a question?
• Text or call
800-614-7411
• Email
support@usbathstore.com
• Start a live chat
Our team is available to serve you
8:00 AM - 11:59 PM
ET, 7 days a week.
Say Hello to a Warm, Welcoming Seat

It's an unexpected essential for anyone who's been frozen by a cold toilet seat or stubbed their toes on the way to the bathroom at midnight. The Brondell LumaWarm heated nightlight toilet seat offers the luxury and comfort of a heated seat with the added convenience of an illuminating LED nightlight. There is nothing more jarring than turning on the bathroom light in the middle of the night and sitting down on a freezing cold toilet seat. With the LumaWarm, you will be guided by the soft illuminating glow of the blue nightlight and comforted by the soothing heated seat, set to your personal temperature preference.
With 4 temperature setting options (off-low-med-high), the LumaWarm is comfortable all year round. The elegant built-in nightlight has a simple on/off button and LED light bulb that is energy-efficient and long-lasting. The LumaWarm heated nightlight toilet seat quickly and easily replaces any existing toilet seat and is adjustable for a perfect fit on any standard fixture.
As with all Brondell toilet seats, the LumaWarm has a gentle closing seat and lid with superior style and quality you won't find anywhere else. The LumaWarm heated nightlight toilet seat is a must-have for every bathroom. Don't lose any more sleep, get the LumaWarm today, and start living in luxury!

Features
Adjustable heated seat (3 temp settings)

Illuminating nightlight (blue color)
Energy-efficient LED light bulb
Gentle closing seat and lid
Simple intuitive controls
Stylized, contoured design
Ergonomic seat
Fits all standard toilet fixtures
Power and seat temp indicator lights
One-touch pushbutton controls
"Set and Forget" settings
Powered by a standard GFI wall outlet
One year limited warranty
Specifications
Brand
Brondell
Country of Origin
South Korea
Shape

Round
Color

Biscuit

Voltage / Frequency
120V / 60Hz
Rated Power Consumption
55W
Power Cord Length
4 feet
Seat Temperature
Off/Low: 97º F, Medium: 100º F, High: 104º F

Bulb Type

Blue LED
Installation (typical time)
Less than 15 minutes
Dimensions
14.3

"

(W) x 18.5

"

(L) x 2.8

"

(H)
Net Weight
4.6lbs
Warranty
Brondell warrants that all products (excluding consumable items) shall be free from defects. Warranties do not apply to products that are used for commercial, hospital, or other non-residential applications.
One (1) Year Limited Warranty
100% Coverage for all parts and labor for the first year from the original date of purchase.
About Brondell 
Healthy by Design. Brondell is committed to a healthier, happier you.

From the air we breathe, the water we drink, and the body we keep, Brondell prides itself on leveraging the best technologies to deliver unique, healthy home experiences for anyone looking to improve the spaces and routines they engage with every day. Their award-winning product lines for the home and office bring you the best in modern health and hygiene care, so you can breathe better, drink more purely and clean with confidence.
Be Well, Stay Well with Brondell.
From the renowned Swash electronic bidet suite to the H2O+ line of water filtration systems and O2+ air purification, people are taking notice of Brondell products and acknowledging their role in bringing technology and science together to deliver modern health and hygiene products to the home and office.
Brondell's LumaWarm heated toilet seat offers features such as adjustable temperature settings, an illuminating nightlight, and a gentle-closing lid. The only thing you'll ask yourself is why you waited so long!
Brondell products hold several certifications, including by Underwriters Laboratories (UL) and by IAPMO R&T to qualify for cUPC (Universal Plumbing Code).
Brondell is committed to you & your family's wellness!
Options & Accessories
Say goodbye to toilet paper and experience the new clean with Brondell bidets! The Brondell bidet is a simple and inexpensive way to retrofit your existing toilet into a hygienic bidet.
CleanSpa Hand-Held Bidet Sprayer
Brondell CleanSpa provides a refreshing and cleansing bidet / shattaf wash or convenient diaper spray right in the palm of your hand. The elegant and ergonomic hand sprayer is simple to use and offers several mounting options for easy installation in any bathroom.
Brondell FreshSpa easy bidet provides personalized wash settings for maximum comfort. The easy-to-use controls allow for adjustable water pressure - from a gentle wash to a concentrated stream - while the wash nozzle has 3 separate angled positions ensuring accurate coverage for all types of users.
Brondell SouthSpa Dual Temperature Bidet is for left-handed people and anyone in need of a bidet attachment with controls on the left side. The SouthSpa is not JUST for lefties either, as it is the perfect solution for those bathrooms that do not provide enough clearance on the right side.
Videos
Frequently Asked Questions
Can the LumaWarm be installed with a Brondell bidet?




Yes, the LumaWarm can be installed with FreshSpa or PureSpa Bidet Attachments or any of our Bidet Sprayers. This seat will not work with the Swash line.
What's included with the LumaWarm?




Brondell LumaWarm comes with its unique mounting hardware needed for standard installation.
How much electricity does the LumaWarm use?




The LumaWarm uses 55 watts. Additional information on Electrical Requirements can be found in the Installation Guide or in the Owner's Manual.
How long is the power cord? What side of the LumaWarm is the power cord on?




On the LumaWarm, the power cord extends from the left side of the LumaWarm when facing the toilet. The power cord is 4 feet long.
What are the interior hole dimensions of the LumaWarm seat?




The interior hole of the elongated-size LumaWarm is 11.5"L x 8"W. The interior hole of the round-size LumaWarm is 10.75" x 8".
What colors are available for the LumaWarm?




The LumaWarm is available in white and biscuit. If you are looking to match your new LumaWarm with an existing toilet, our color recommendations for American Standard, Kohler, and Toto toilets are as follows:

White

American Standard: White
Kohler: White
Toto: Between Colonial White and Cotton (not a perfect match)

Biscuit

American Standard: Linen
Kohler: Biscuit
Toto: Sedona Beige
Is your LumaWarm compatible with seat elevators or toilet seat risers?




Due to a unique mounting system, LumaWarm is not compatible with any risers at this time.
Where is it made?




LumaWarm heated seats are made in Korea.
Share
View full details
Customer Reviews
03/14/2021
Can't believe I ever lived without this product!
I just redid my master bath and the new, expensive toilet had a seat that was so cold that I bought a space heater so the seat would be warm when needed. Since buying and installing the Luma Warm Heated Nightlight Toilet Seat I no longer dread going to the bathroom and no longer need the space heater.
01/30/2021
Butt Quarantine Paradise
A couple years ago, I went to a store bathroom and experienced a warm toilet seat. I never forgot about the experience, and years later I went ahead and bought it. It's a luxurious and comfortable feel like no other! One downfall, the cord is short and will probably need an extension cord.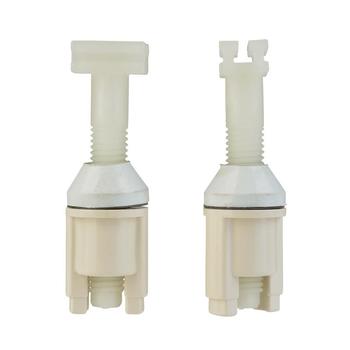 08/15/2018
Better mounting hardware would make this perfect
Once you've installed and gotten used to a LumaWarm, sitting on any other toilet seat will be a cold shock. It really is comfortable, year-round. The nightlight is another great feature. Additionally, the hinge allows the seat to close slowly on its own, no "slamming." The only downside is that the "adjustable mounting bolts" that attach the seat to the throne do not go through the hinge assembly as they do on conventional seats: the heads of the bolts have grooves that match up to grooves in the hinge assembly (to accommodate US and EU styles of bowls). Because of this, the seat tends to move and shift around on the bowl, and sometimes becomes completely detached. Tightening the bolts does not help. It's a pretty major design flaw and the only thing keeping me from giving a 5 star review.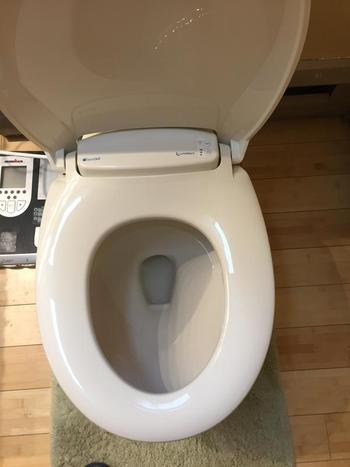 04/22/2018
Nice and warm ****
I just bought this for my husband who complains on sitting on a cold toilet seat all winter long. It heats up fast and easy, has a nice blue night light that can be turned off and easy slow closing lid and seat. He loves the seat and it was easy to install. The only complaint is that the electrical cord could be at least at foot longer.
03/16/2021
Great features
This is the best purchase I've made for my home. I hate turning the light on in the middle of the night as it wakes my husband but the nightlight on the seat is the perfect brightness so that i can see where I'm going. I love the temperature control as well. I plan to buy one for each of my family members.
What our customers are saying...
What an excellent company and excellent products. Just like the old days when companies really cared about their customers, these guys are awesome!!!

Betty C.

Warminster, Pennsylvania

I was greeting in chat soon after logging into their web. She was genuine and very helpful in getting me the correct items I needed. The communication about shipping and tracking was great as well. My mind was at ease concerning my investment purchase! Thank you!

Jolene

San Jose, California

I've been extremely imporessed with the service--from the actual humans answeing phone calls to the accurate and prompt follow up, including and unrequested phone call to follow up on my order delivery requests.

Monica

Fairfax County, Virginia
Trusted by thousands of customers, big and small